I CAN'T BELIEVE THIS HAPPENED! IT'S SO SURREAL!  I'm a huge, HUGE fan of the series, and I can't believe that this opportunity came along!
[Spoiler-free; Don't worry, no plot spoilers here!]
Sex Education Season 3 was just released on September 17th 2021, and I'm SO EXCITED to finally be able to share this news!
For all you eagle-eyed viewers that have already sent me screenshots and excited questions: yes, that's my Progress Pride Flag pin that Ola's wearing on Episode 3! 
AND IT EVEN GOT A LITTLE WRITTEN SCENE! AHHH!!!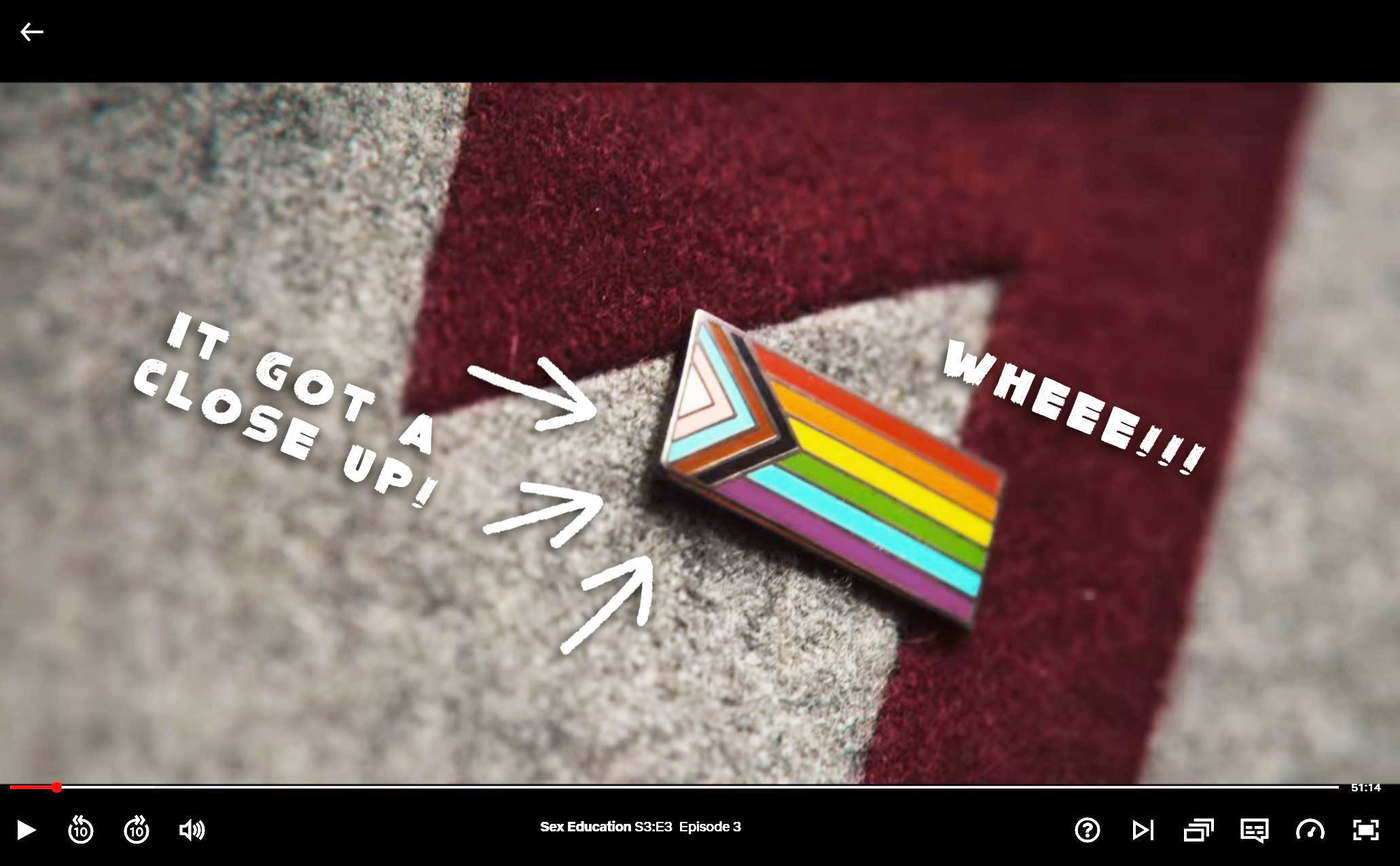 My Progress Pride Flag pin even got a FULL-SCREEN SHOT! Credit: Sex Education S3E3, Netflix.
I was squealing at the TV when it came on!
If you haven't watched this amazing series yet, you HAVE TO! Sex Education is such an inclusive, respectful, educational, and BEAUTIFULLY SHOT show - tackling so many current, important issues surrounding sex, intimacy, sexuality, and gender identity. Funny, heartfelt, and never preachy.
And the costumes and styling are just PURE CLASS! (not biased, I swear haha!)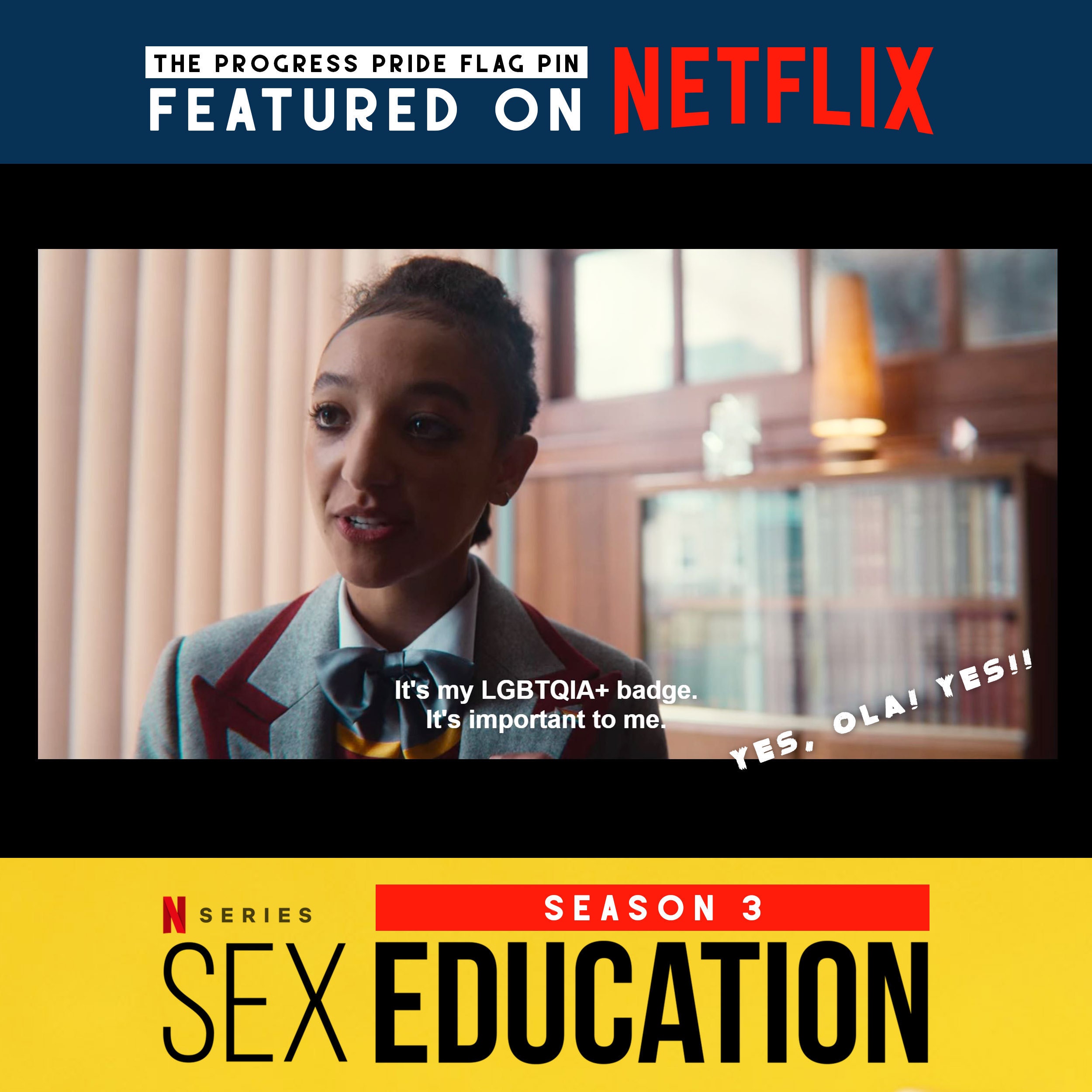 "It's my LGBTQIA+ badge. It's important to me." - Ola, YOU GO GIRL! Credit: Sex Education S3E3, Netflix.
Which Enamel Pin was Ola Wearing in Sex Education Season 3, Episode 3?
The amazing Ola Nyman (played by Patricia Allison) was wearing the Progress Pride Flag by The Pin Prick.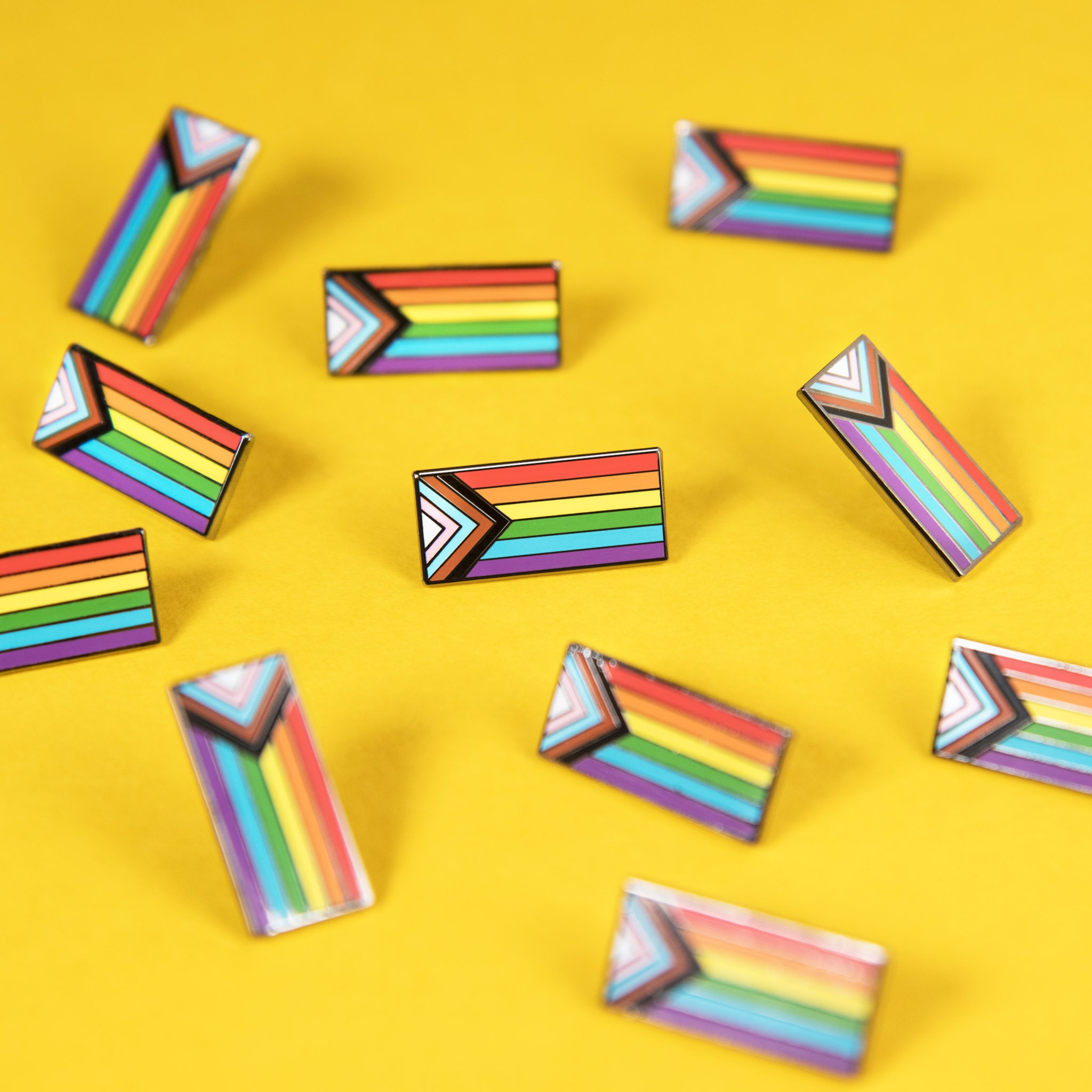 The Progress Pride Flag Pin, from The Pin Prick. See more here!  www.pinprick.shop
What does the Progress Pride Flag Represent?
The Progress Pride Flag was first unveiled in 2018, and was designed by Daniel Quasar. 
In the new flag, the familiar 6 rainbow stripes of the traditional Rainbow Flag are accompanied by black and brown stripes that represent queer people of colour, as well as the blue, pink and white stripes of the Transgender Pride Flag. Additionally, the black stripe is also used to represent those living with AIDS and the stigma and prejudice surrounding them, and also commemorates those who have been lost to the disease.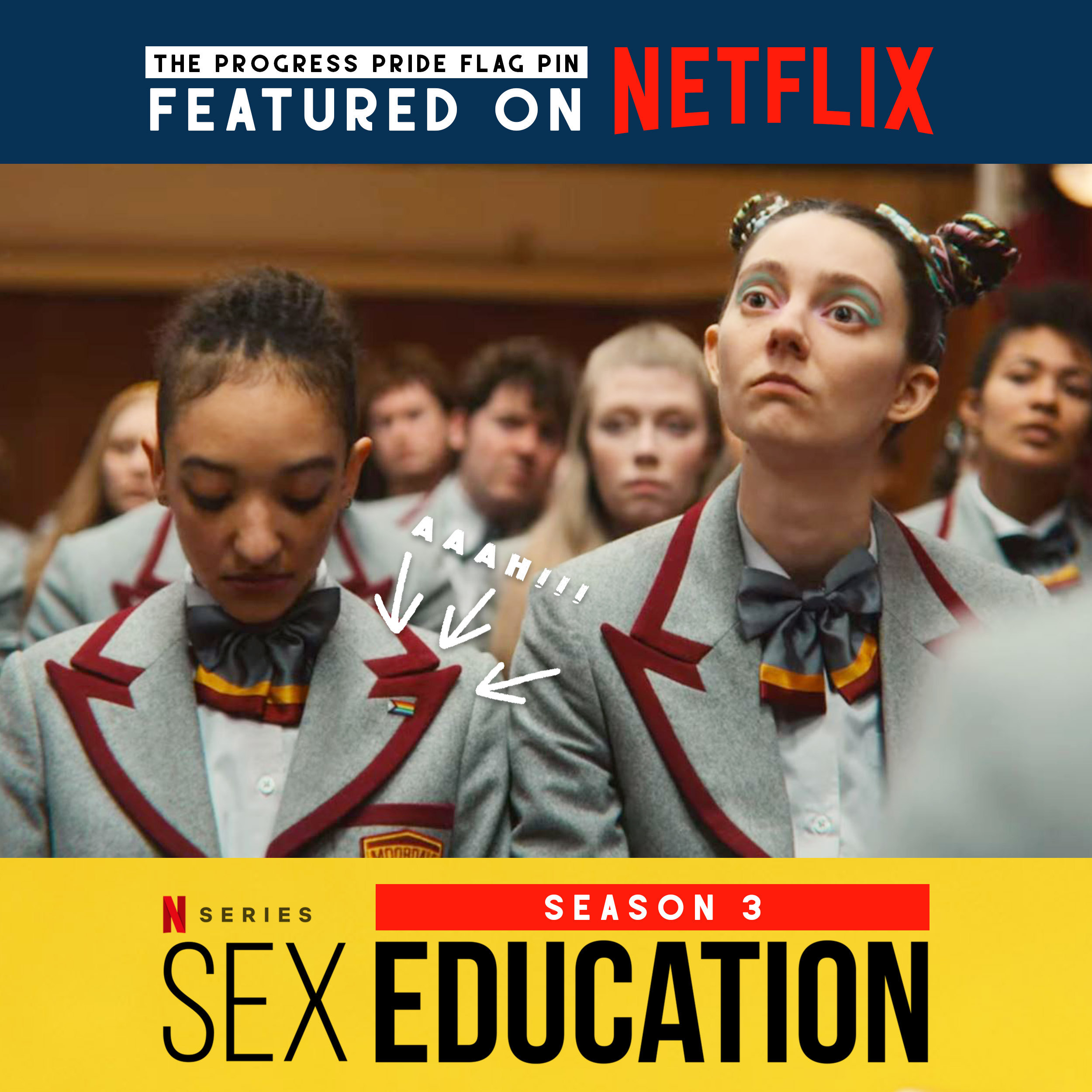 The Progress Pride Pin worn by Ola Nyman (played by Patricia Allison). Credit: Sex Education S3E3, Netflix.
Where in the show was the pin badge featured?
If you want a quick jump forwards: the pin gets a full-screen close up in the opening sequence at 1:48, as well as a longer scene from 13:05-16:00.
Sex Education Season 3 premiered on 17th September 2021 and is currently airing on Netflix!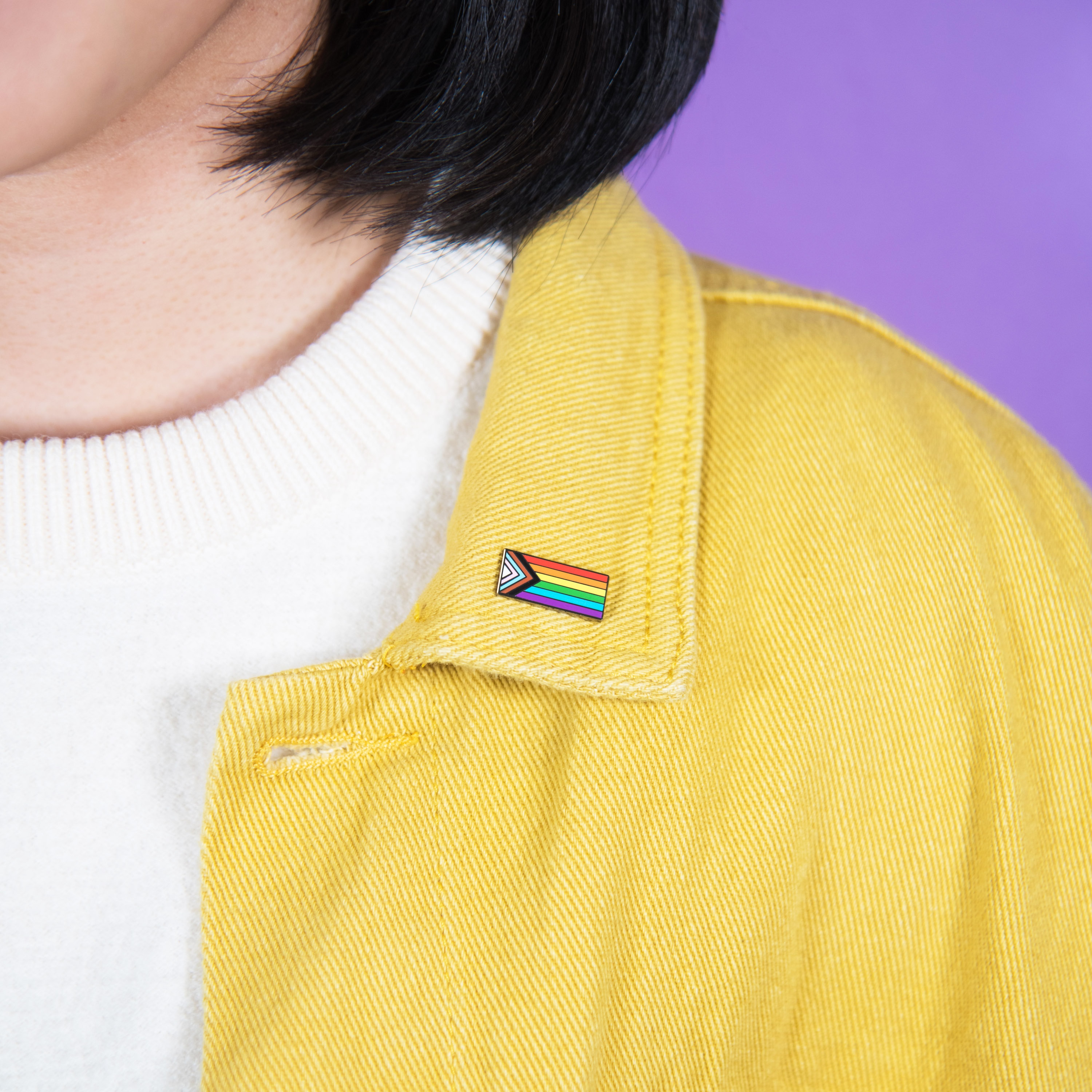 The Progress Pride Flag Pin, from The Pin Prick. See more here!  www.pinprick.shop