Limited-Edition Guest Artist Cards!
I'm so happy to introduce a series of seven limited-edition backing cards for this festive season! Each card has been designed by a different international guest artist, and they are all so wonderfully distinct in character: from illustrations to poetry, traditional media to digital art!
The Brief
An Artist's Open Call was published on Instagram, calling for  artists/designers/photographers/illustrators/writers/poets to collaborate! I thought this would be a really fun way to showcase the talent and creativity in our community, while having a variety of artwork that would spread some festive cheer all over the world!
The brief was simple: a 2D printed design featuring PRIDE and CELEBRATION/FESTIVITY (and some space for me to tack on the pins 😉)! 
Alongside being a paid commission, their work is fully credited on all the prints - with an artist's bio and contact details on the reverse. Support your artists - no "work for exposure" nonsense here!
Ro Evergreen
This festive-themed backing card has been designed in collaboration with Rocio Colombo @ro.evergreen, a freelance designer from Argentina. Rocio loves creating crazy illustrations in her characteristic cartoon-inspired style. Isn't it great how the pins get to be the little stars on top of the Christmas tree? ❤️🎄Genius!!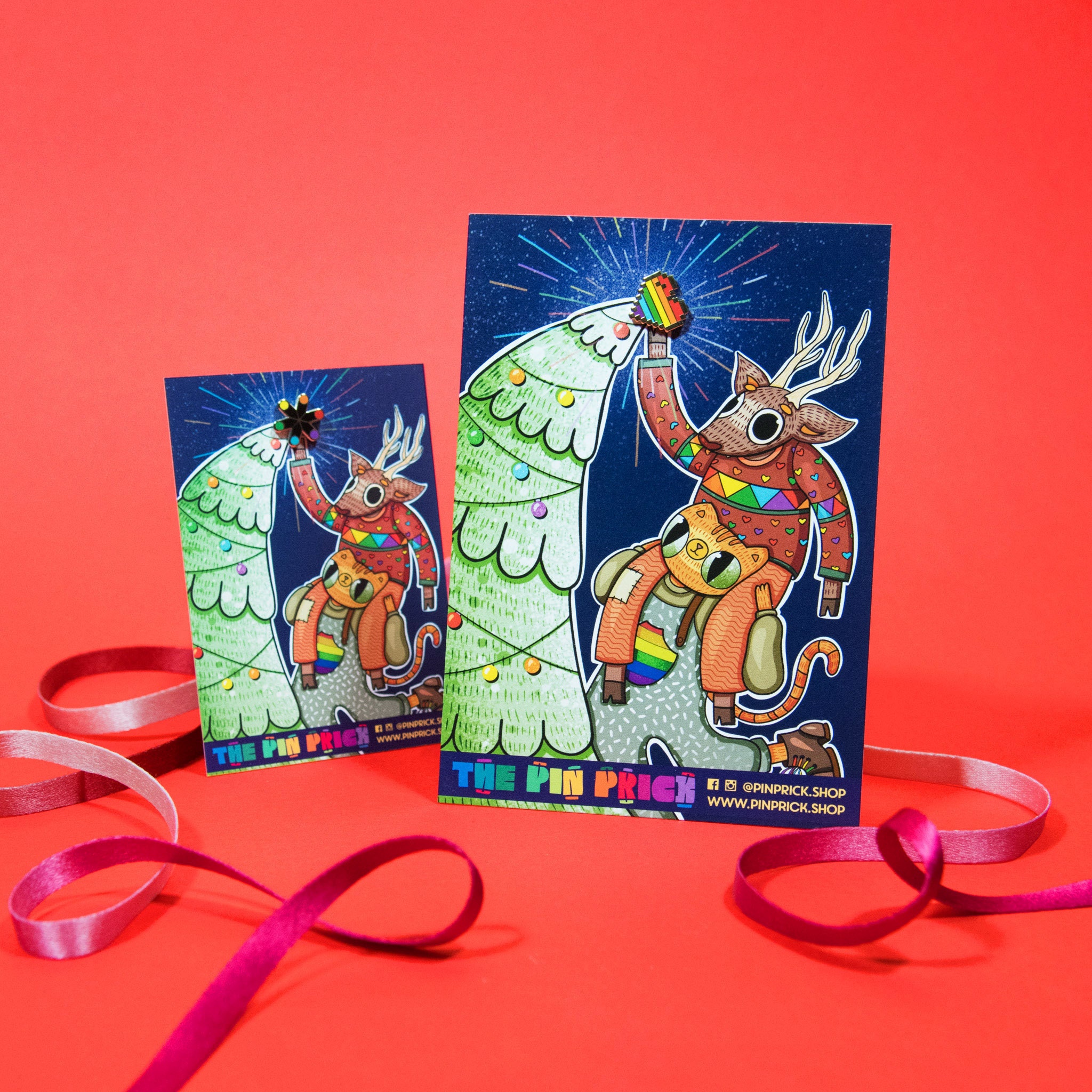 Sophie McTear
The heart-themed backing card is designed by Sophie McTear @sophiemcteardesign, a nonbinary illustrator and graphic designer living in Tucson, Arizona. They make art inspired by their LGBTQ+ experience through honest and vulnerable self-expression. I love their style, which has such personality in its linework and textures!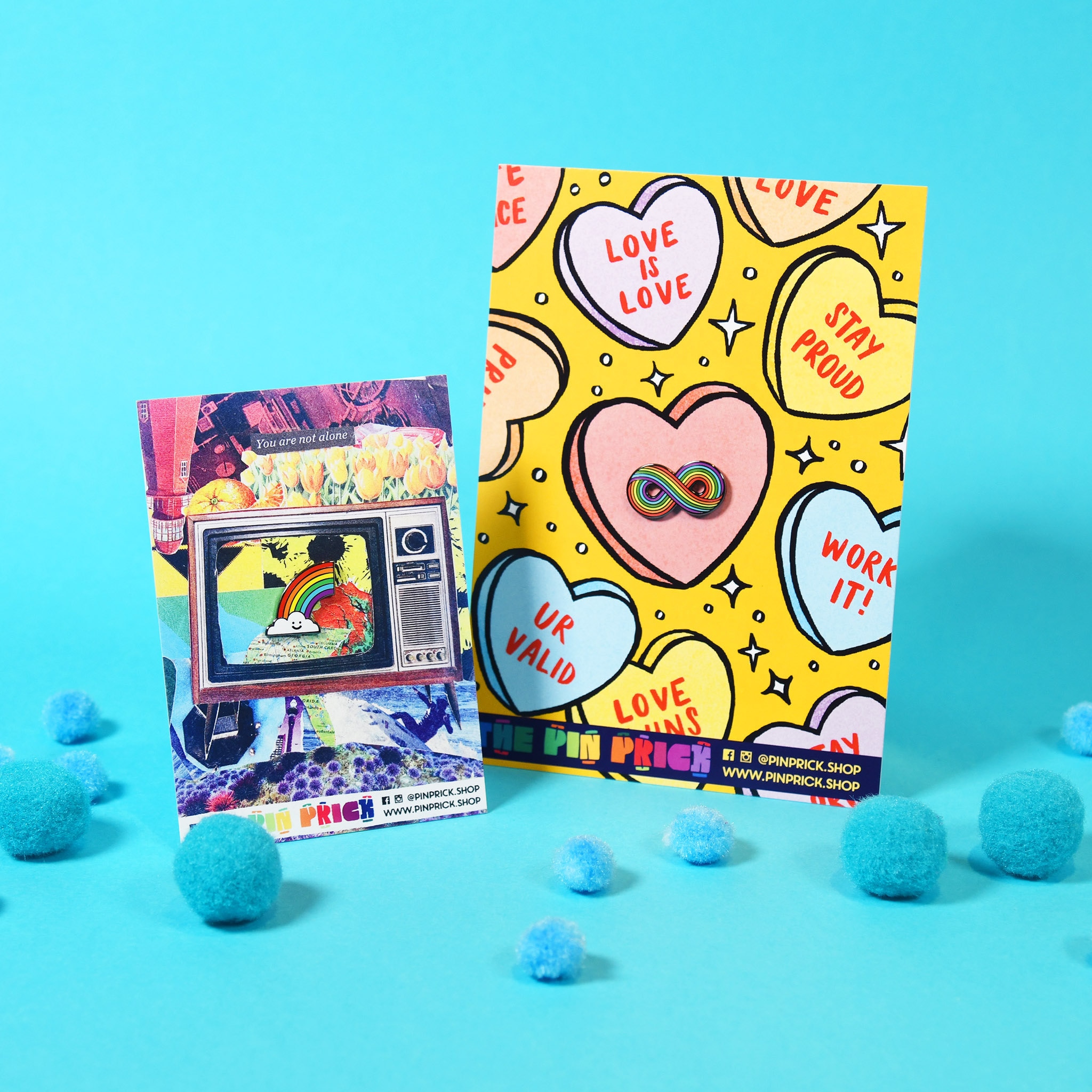 Ryan Berberet 
The rainbow collage is by Ryan Berberet @ryann_400, a young artist from Southern California trying to find new ways to express her creativity. The LGBTQ+ community has played an important role in her family and social life, and she offers her art as a small way of giving back. It was wonderful to have Ryan contribute her talents in traditional media to the mix of artists!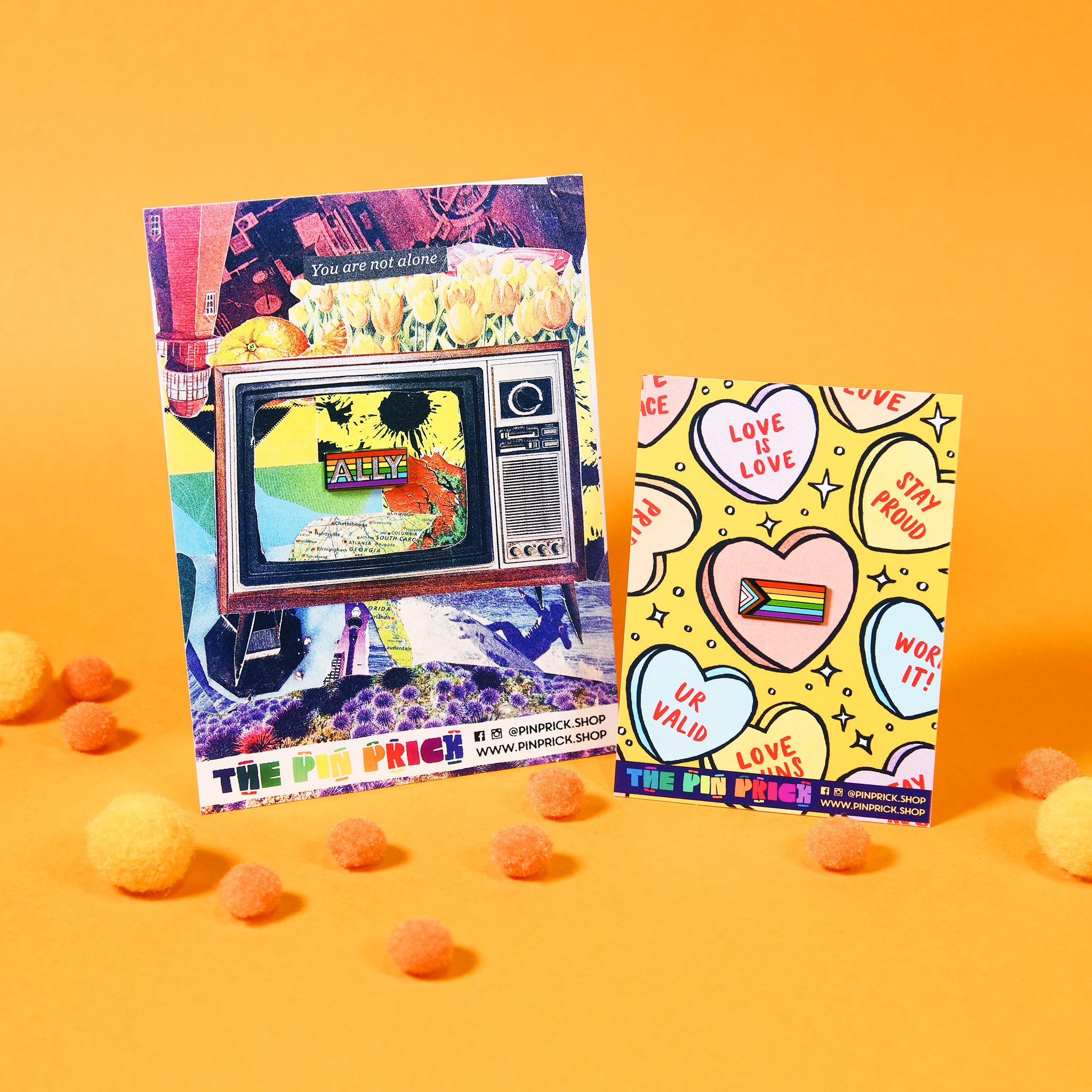 Dean March
The astronaut design is by Dean March @d3anmarch , a young artist from Germany whose work often explores the beauty and diversity of queerness. Given the absolute freedom to draw anything they wanted (so long as it had rainbows!), Dean ended up with pride astronauts and a bonus space pun – instant LOVE!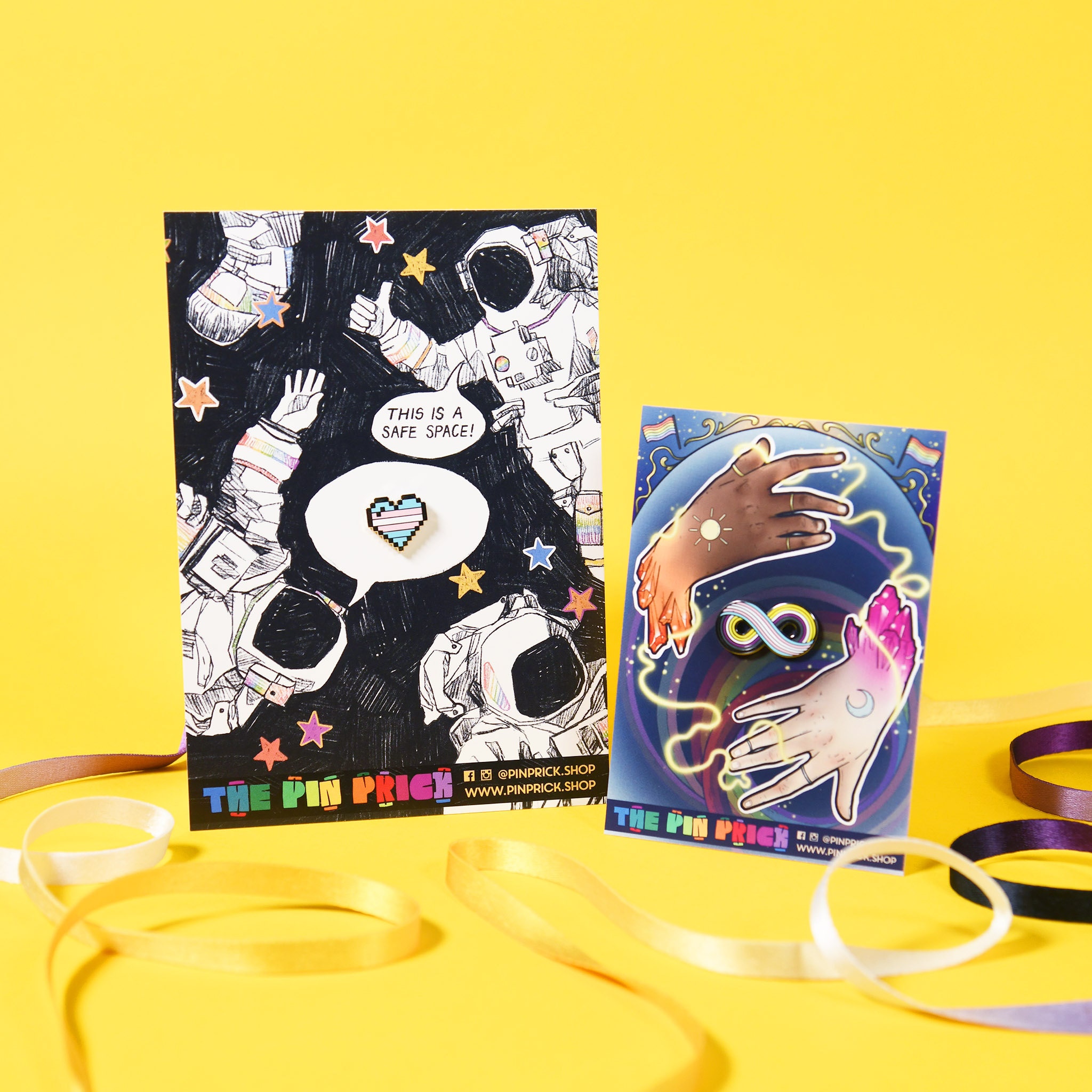 Kelsee Porter 
The wonderful tarot-themed design is by Kelsee Porter @basementghoulart, a lesbian artist who makes Art Nouveau and tattoo-inspired art, channelling her love for the extravagant and picturesque towards a world that she feels could always do with a little more beauty – and a beautiful design she's created indeed! These photographs don't do justice to all the intricate linework and rendering, and there is so much joy to be discovered in all its details!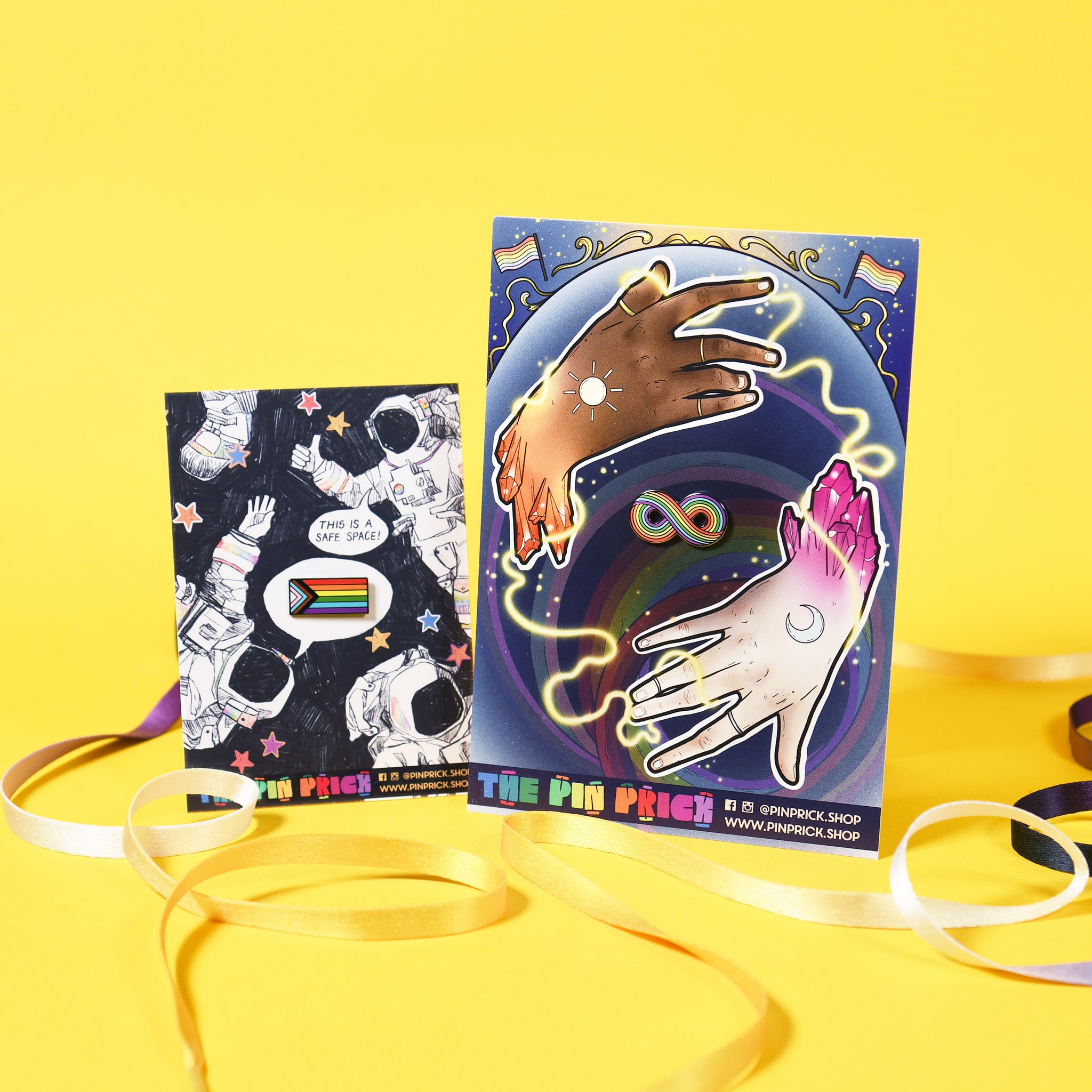 Ezra W. Smith & Emvie
The final two artists to be revealed are illustrator Ezra @ezra_w_smith and poet Emvie @art_by_emvie!
Ezra W. Smith is a female freelance illustrator in Central Europe. Her work mainly deals with issues of sexuality, women's health, feminism, visibility of lesbian & bisexual women, and gender equality. See more of Ezra's wonderfully colourful, topical work at @ezra_w_smith!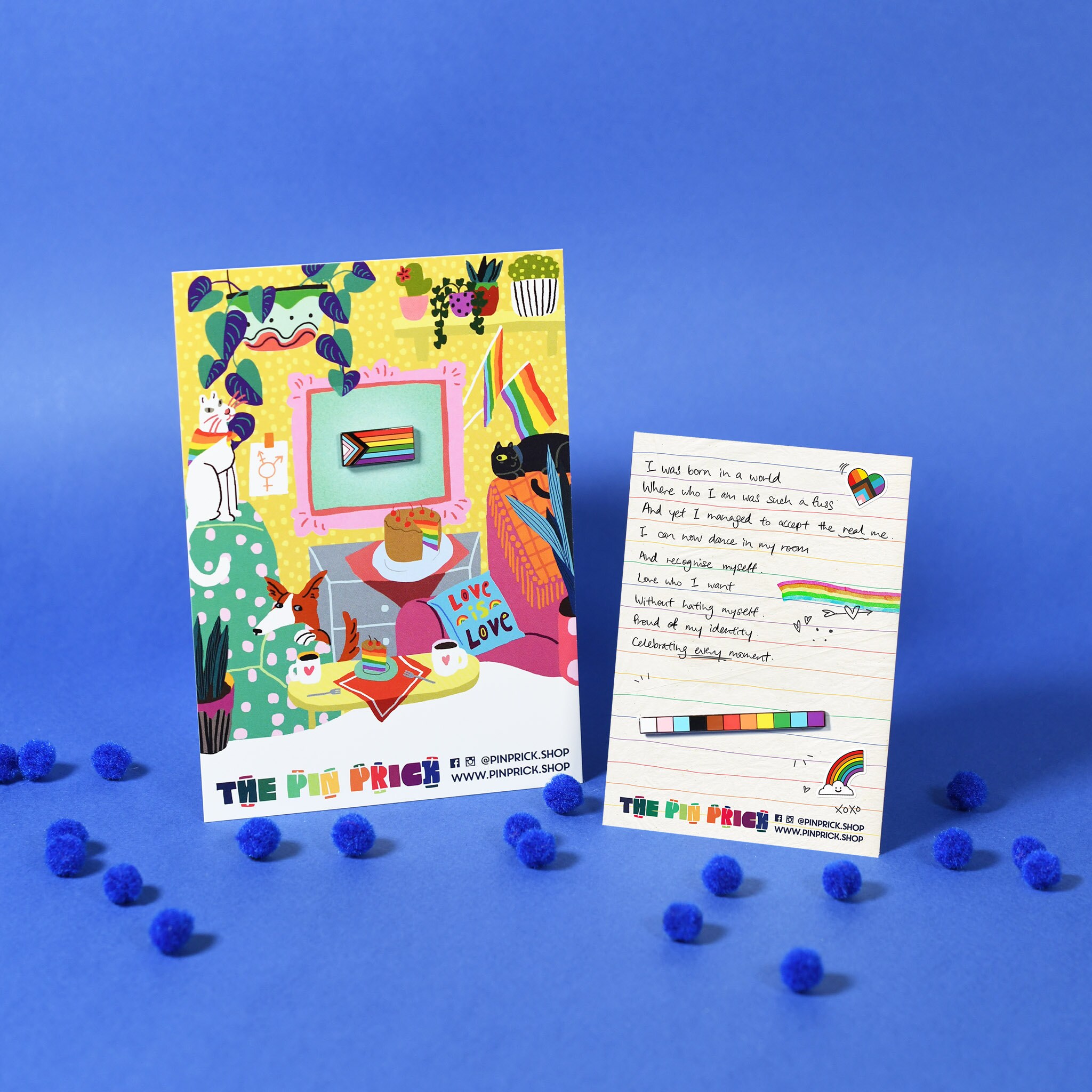 The other backing card is graced with a poem by Emvie @art_by_emvie, a young bisexual girl who self-professes to be obsessed with all forms of art. She writes, sings, draws and acts, and has contributed this poem as an ode to pride and self-acceptance:
---------------------------
I was born in a world
Where who I am was such a fuss
And yet I a managed to accept the real me.
I can now dance in my room
And recognise myself.
Love who I want
Without hating myself.
Proud of my identity.
Celebrating every moment. 
---------------------------
Artwork in Every Package!
Since the start of this festive season, all packages are now being shipped with randomly picked backing cards! I hope that these little surprise art pieces bring a smile to your faces.
If you love the designs, please do support the respective artist by checking out their work, and telling them your thoughts on their beautiful cards!